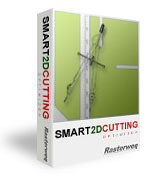 Smart2DCutting is a professional cutting software package designed for panel cutting optimization. Using advanced algorithms, it generates the most optimized cutting patterns, providing for maximum material yield. Our nesting software can help you maximize productivity by reducing panel waste and costs and by saving the time needed to create and analyze patterns.
Smart2DCutting may be used for wood cutting, board cutting, panel cutting, glass cutting, sheet cutting and other similar industries.
In our software cost calculation is highly developed. Also our cutting program works fast even with large number of parts. You can download here and test it.
---
Our software makes your company profit and benefit by its easy usage and superior technical features. With our software, you will not need anyone's knowledge, experience and mastery, and you will be able to do your calculations yourself. As you use our software, you will find that our software has become an important part of your production line.
The current version of the application is Smart2DCutting 3.5Key Features
Maximize productivity by reducing panel waste and costs and by saving the time needed to create and analyze patterns.

Measurements in Metric (mm, cm, dm, m) and US Customary / British Imperial (in, ft, din) units

Easy input of panels and parts data manually through the keyboard, by loading native Smart2DCutting files or by importing from CSV files or from the clipboard.

Jobs management system

Highly optimized cutting layouts (avg. 95%-97% coverage) computed very fast. Even for 2000 parts the cutting layout is generated in less than 10 seconds on today's modest computers.

Calculate the optimal panel size for a given parts list

Multiuser (network) support

Edge banding for parts

Preview/Print all cutting layouts and reports

The cutting layout can be saved for later reuse

The cutting layout can be exported to a DXF, TXT or XML file for further processing using a cnc software

Label parts and offcuts on the cutting layout.

Adjustable cutting blade thickness per material type

Grain direction control for individual parts

Margin width control for panels and parts

Adjustable optimization level

Adjustable optimization direction

Handle different material types for panels and parts

Detailed report, showing a list of used panels, resulted parts and offcuts, with their dimensions and layout statistics

Cost calculation report (material and operational cost)

Print labels that include parts, panels and usable offcuts information.

Print barcodes on parts labels

Stock management system

Multilanguage support :