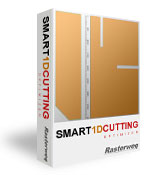 Smart1DCutting is a professional cutting software package designed for length cutting optimization. Using advanced algorithms, it generates the most optimized cutting layouts, providing for maximum material yield. Our 1D nesting software can help you maximize productivity by reducing material waste and costs and by saving the time needed to create and analyze cutting plans.


Smart1DCutting may be used for any linear material types such as bars, pipes, profiles, cables etc.
In our software cost calculation is highly developed. Also our cutting program works fast even with large number of parts. You can download
here
and test it.
Measurements in Metric (mm, cm, dm, m) and US Customary / British Imperial (in, ft, din) units

Input sources and parts data manually through the keyboard, by loading native Smart1DCutting files or by importing from CSV files or from the clipboard.

Jobs management system

Highly optimized cutting layouts (avg. 95%-97% coverage) computed very fast. Even for 2000 parts the cutting layout is generated in less than 10 seconds on today's modest computers.

Multiuser support

Cutting angles information for parts

Preview/Print all layouts and reports

The cutting layout can be saved for later reuse

The cutting layout can be saved to a TXT or XML file for further processing

Adjustable cutting blade thickness per material type

Margin width control for sources and parts

Adjustable optimization level

Handle different material types for sources and parts

Detailed report, showing a list of used sources, resulted parts and offcuts, with their dimensions and layout statistics

Cost calculation report

Printable part, source and offcut labels

Print barcodes on parts labels

Stock management system

Multilanguage support :